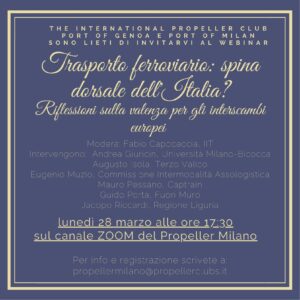 TRASPORTO FERROVIARIO: SPINA DORSALE DELL'ITALIA?
Riflessioni sulla valenza per gli interscambi europei
Saluti istituzionali
Giorgia Boi, Presidente, The International Propeller Club – Port of Genoa
Riccardo Fuochi, Presidente, The International Propeller Club – Port of Milan
Umberto Masucci, Presidente, The International Propeller Clubs
Gianni Berrino, Assessore ai Trasporti, Regione Liguria
Maria Cristina Carmeli, Direttore alla Mobilità, Comune di Genova
Ammiraglio Sergio Liardo, Comandante del Porto di Genova
Modera: Fabio Capocaccia, Istituto Internazionale Comunicazioni
Le politiche interregionali per il potenziamento del sistema infrastrutturale e della logistica delle merci
 Jacopo Riccardi, Direttore reg. trasporti, porti, energia, Regione Liguria
Il Terzo Valico: lo stato dei lavori
Augusto Isola (Studio tecnico Ing. Augusto Isola)
Opportunità e vincoli per lo sviluppo del trasporto ferroviario
Mauro Pessano, Captrain
L'importanza della rete: connessioni tra porto e retroporto
Guido Porta, Ceo, Fuori Muro e InRail
Il trasporto ferroviario merci chiave per un settore logistico efficiente
Andrea Giuricin, Università Milano-Bicocca
Il ruolo del trasporto intermodale strada-rotaia per lo sviluppo futuro dell'economia italiana
Eugenio Muzio, Commissione Intermodalità Assologistica 
LINK YOU TUBE:
https://www.youtube.com/watch?v=32rhXleb3q0
Trasporto ferroviario: spina dorsale dell'Italia?